IWISHYOU, furnish your living spaces with the suggestive Made in Italy fragrances
IWISHYOU is an exciting journey through the wonders of Italian landscapes, a refined range of home fragrances characterised by enveloping scents that celebrate the Mediterranean.
The sophisticated floral essences combined with sweet fruity notes, give life to intense and pleasantly persistent aromas. The woody base notes refine the fragrances to sublimate them.
Recall the beauty, your most beautiful memories and furnish your living spaces with elegance and uniqueness.
AMBER
Olfactory perception: amber and woody fragrance.
Rich and sensual, warm and comfortable. Amber is the oriental fragrance par excellence. With its soft and seductive touch it will lead you into a world of mystical and intriguing suggestions.
Amber is an intoxicating and precious fragrance that instils well-being and pleasure in boutique, living room and study environments.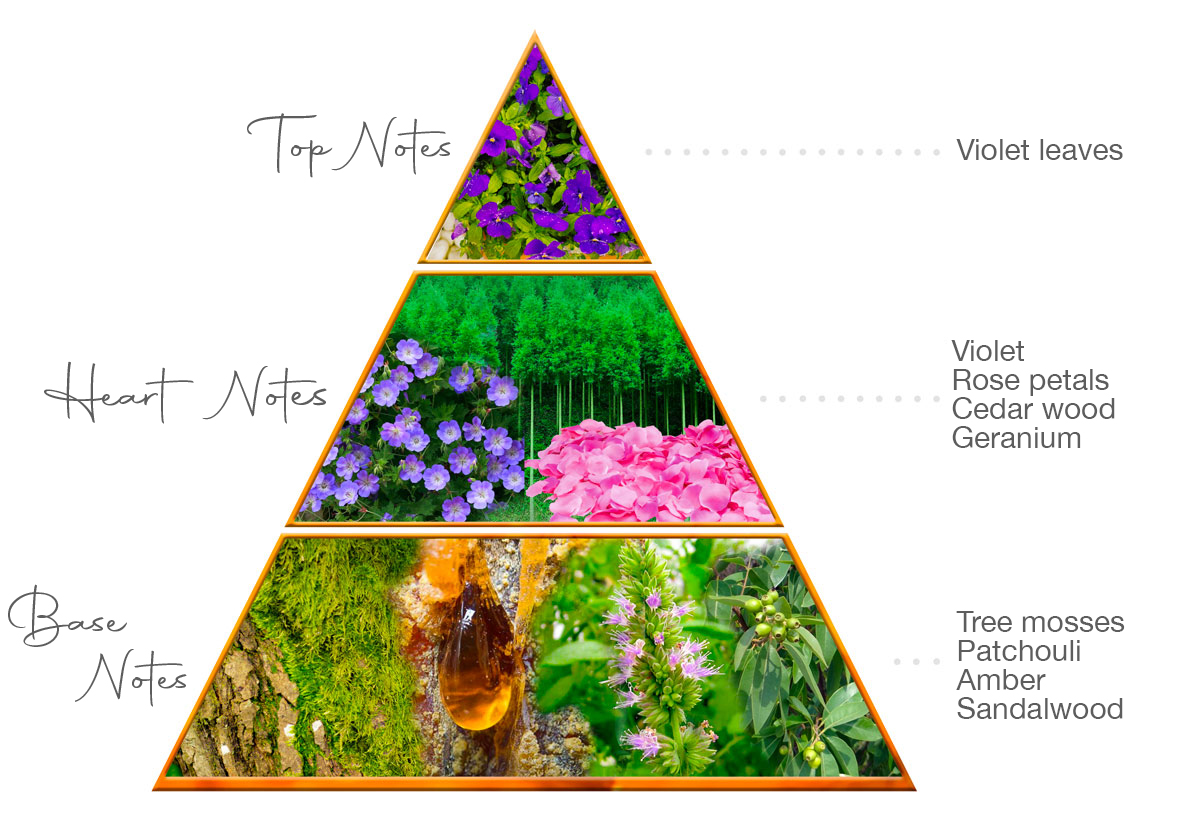 CITRUS AND VANILLA
Olfactory perception: sweet, citrusy and floral-aldehyde fragrance.
Precious olfactory notes make up a sweet and sparkling fragrance: mandarin, Sicilian orange and lemon open the fresh citrus top note that melts into an aromatic heart of eugenol and thyme from the Provence region. The accord ends in an enveloping embrace of Madagascar vanilla.
Citrus and Vanilla is a fragrance that instils relaxation in boutique environments, entrances and living rooms.
CHAMPAGNE
Olfactory perception: citrusy and fruity fragrance.
The finely embroidered flavour of champagne intoxicates the air with a fruity essence. The top notes are cassis, bergamot, apricot and Sicilian lemon, in a heart of plum, violet and apple, with rose petals as the base note. This accord ends in a casquet of white grapes and oak moss.
Champagne is a fragrance that enhances boutiques, living rooms and studios.
FIG AND ALMOND
Olfactory perception: citrusy, fruity and musky fragrance.
It is in the narrow streets of the Salento countryside that you can easily get lost while surrounded by persuasive scents in a late midsummer afternoon. The mistral wind brings the smell of fig trees with its fruits split by the sun, whose scents bounce between dry stone walls and paving stones of ancient Roman roads.
Fig and Almond is a fragrance for the common areas, the living room. It is a perfume that harmonises meetings with people you care about and that provides the environment with a feeling of complete relaxation.
FIOR DI TIARÈ
Olfactory perception: flowery fragrance.
Fior di Tiaré releases a fresh and refined scent into the air. It is like walking in a flower garden among bees and butterflies. It's a Saturday in May sitting on a windowsill waiting for the sunset. It's watching a child run after a ladybug. It is the stillness of a perfume that relaxes and accompanies you in fleeting and pleasant thoughts.
Fior di Tiaré furnishes your bedroom and pampers you while you hug your pillow and imagine the life you have always dreamed of.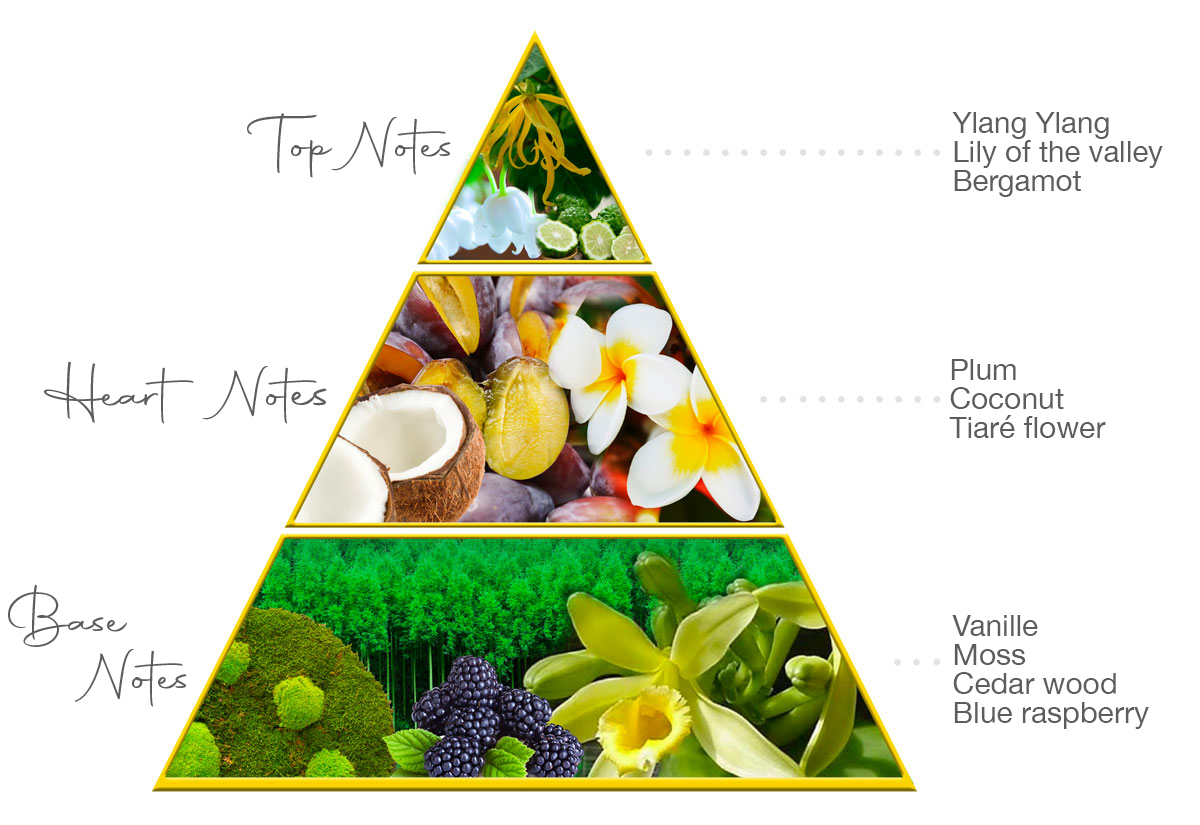 POMMEGRANATE
Olfactory perception: fruity, flowery and vanilla fragrance.
A fruity and delicately floral accord characterises this sweet fragrance. The velvety notes of apricot and aromatic notes of cassis, together with the herbaceous freshness of dill, open up a refined fragrance. The intensity of the pomegranate is in the middle notes, accompanied by the sweetness of red fruits such as raspberry and strawberry and the elegance of jasmine and cyclamen flowers. These scents are hosted by the sweet base notes of vanilla that caress the senses together with a sophisticated rosewood and a seductive patchouli. Pomegranate is a sensual fragrance and its romantic accords provide a chic and sophisticated comfort zone.
WHITE MUSK
Olfactory perception: musky, aromatic and flowery notes.
White Musk is the magic that surrounds you when you enter a dense oak forest. It's the rays of the sun that filter through the hanging branches and radiate the moss with a soft light, helping it absorb their life and releasing aromas with sweet nuances of a fresh clean.
White musk provides a delicate softness, an intense sensation of pleasure.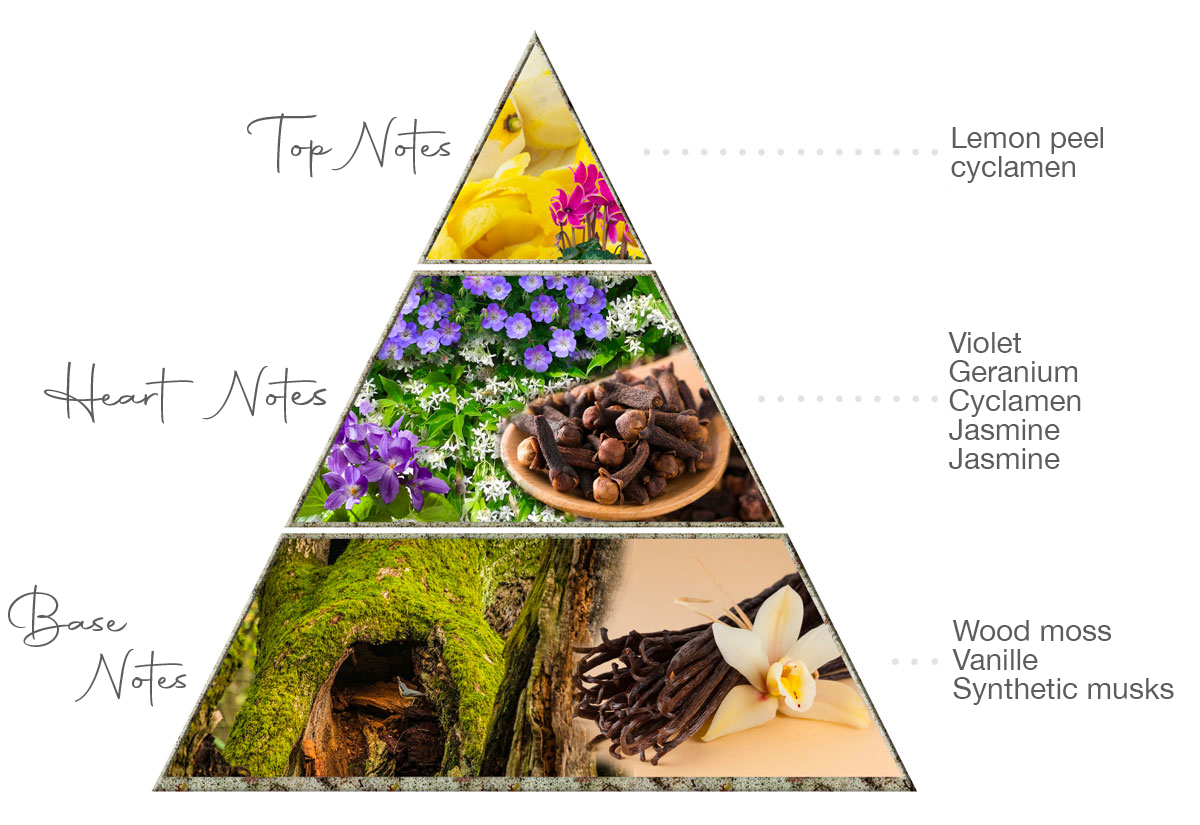 PATCHOULI
Olfactory perception: woody and musky fragrance.
It is like a warm east wind running along exotic islands, bringing with it an overwhelming passion and rhythms of carefree sensuality. It's like reading the last pages of an engaging book. Patchouli is a perfume that awakens inner energy, embellishing the areas reserved for hospitality such as an entrance, a hall or an office, providing guests with a sensory experience of profound harmony. Patchouli is an open book… that you will never finish reading.
PORTO BADISCO
Olfactory perception: marine and aromatic fragrance.
Walking along the rocky paths between the beaches and cliffs of Salento, you can breathe in the salty and deep Adriatic breeze. The north wind blows sharply among the pines and brings with it the smell of a land with unforgettable scents.
Porto Badisco envelops your living areas so you can breathe in the fresh air of an emerald sea at midday that regenerates the soul and spirit.
Porto Badisco furnishes areas from which to draw energy. It is a perfume that envelops you when you sing in the shower, that caresses you as you write "Iloveyou" on the fogged mirror, that inebriates you as you dance in your living room to the music of Shocking Blue.
Porto Badisco is the moment when, as you take off your helmet sitting on your Vespa, the smell of a sea that you will cherish forever enters your soul.
SAHARA
Olfactory perception: citrusy, vanilla and woody fragrance.
It is like an oasis in the desert where you can take refuge from the scorching sun and restore your soul. The astringent freshness of grapefruit, orange and lemon sparkle in the air, generating a feeling of peace and serenity.
Sahara is a regenerating fragrance, ideal for boutiques, entrances and living rooms.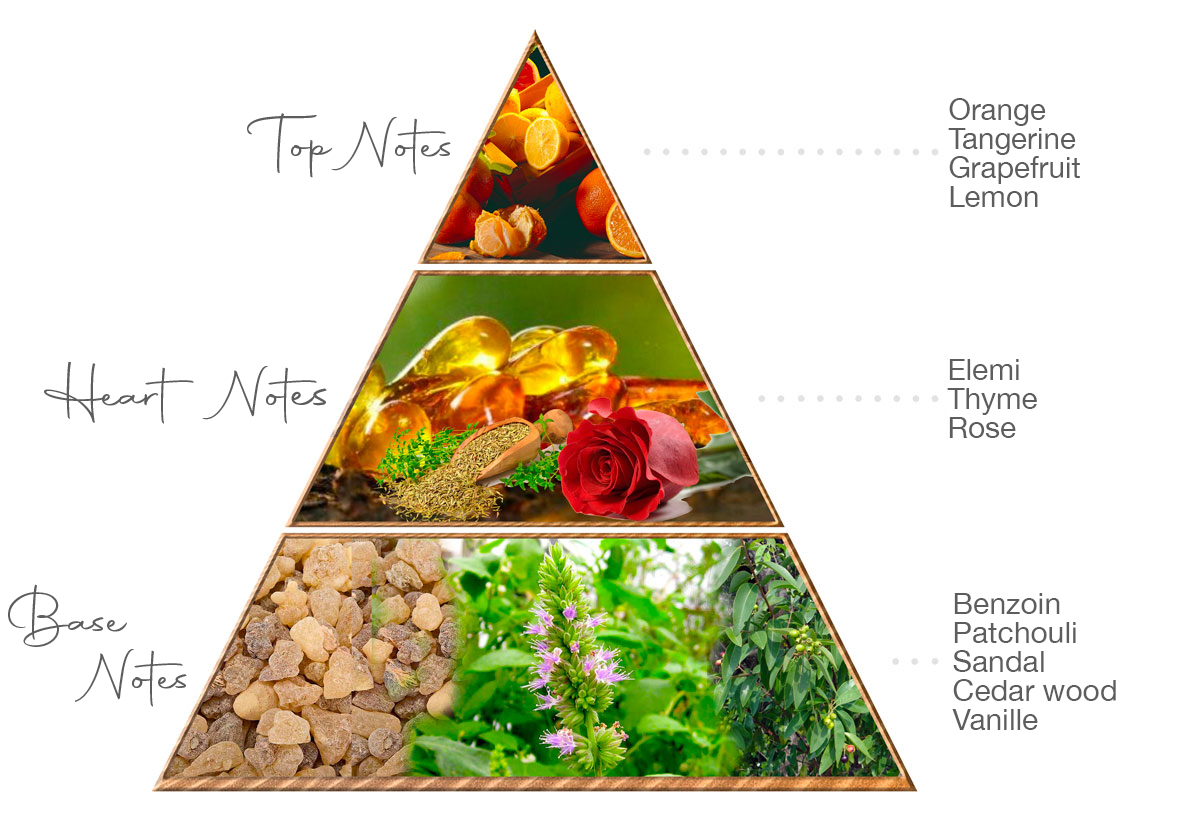 GREEN TEA
Olfactory perception: woody and citrusy fragrance.
Green tea is a journey along a coastline with sinuous and gentle curves while admiring coastal towers worn by the sirocco winds. Green tea is rolling down the window as you let yourself be caressed by the summer wind, breathing deeply an air of freedom, light-heartedness and a dose of healthy insanity.
Green tea laughing out loud without reason with friends in an atmosphere that makes you feel safe and secure.
TOBACCO AND CITRUS FRUITS
Olfactory perception: warm, citrusy and woody fragrance. A citrusy and sweet woody accord for a warm and welcoming fragrance. The energising charge of citrus top notes, such as lemon, orange and Neroli essential oil, gives way to the spicy and sparkling perceptions of nutmeg and the tobacco and carnation leaves. The harmony of the opening notes with the lively central notes ends in the persistence of cedar woods, the sensuality of patchouli and enveloping vanilla and, finally, with the earthy air of Vetiver. Tobacco and Citrus is a joyful fragrance and the enthusiasm of its accords provides a welcoming comfort zone.
GRAPES AND BLUEBERRY
Olfactory perception: fruity, floral and vanilla fragrance.
A fruity and pleasantly floral accord characterises this intense fragrance. The top notes are inspired by juicy fruits such as red currant, cassis and the vitaminic charge of mandarin. The soft petals of violet and geranium are present at the heart of the scent, where rosewood and ripe raspberry ennoble the fragrance. To close the accord, the warm sensations of vanilla and effervescent cedar wood which, together with virginia, welcome the sinuous purple brushstrokes of flowers and fruits. Grapes and Blueberries is an intoxicating fragrance and its soft accords provide a young and modern comfort zone.
VANILLA
Olfactory perception: gourmand and vanilla fragrance.
Precious olfactory notes make up a sweet and sparkling fragrance: the Calabrian bergamot opens the citrusy and fresh top note that penetrates the heart in aromatic hints of heliotrope flowers. The accord ends in an enveloping embrace of Madagascar vanilla, tonka beans and brown sugar.
Vanilla is a fragrance that instils relaxation in boutique environments, entrances and living rooms.
RED WINE
Olfactory perception: fruity and flowery fragrance.
Red Wine is a dinner with dim lights and the person you care about. It is the ruby red wine that sits softly in sparkling glasses. Hints of tannins and negroamaro grapes envelop and rise through the reverberation of light whispers, of words that were never spoken and that you would have never thought you wanted to express.
Red Wine evokes fleeting moments carried away by time but deeply engraved in intense memories. Indelible emotions that are ready to rewind themselves just like a film that you relive when the perfume intoxicates your living areas and takes you back to those moments that will exist forever.
GINGER
Olfactory perception: floral, woody and musky fragrance.
Ginger is a journey to the lands of the Taj Mahal that projects the spirit into a mystical and spiritual atmosphere. Ginger is a scent that awakens life energy and turns positive thoughts into things. Like Agra's Temple of Love, Ginger is a fragrance you can enjoy with those you love to transform the noblest sentiment of the human soul into energy.